Yesterday we started the 12 days of microblogging blog post series to mark the 1-year anniversary of the public launch of Micro.blog. I posted about making it easier for people to share their stories in audio form with microcasting. Today I want to highlight photoblogging.
Sharing photos is an important part of Micro.blog. I put a custom photo picker and filters in the original Micro.blog iOS app to encourage everyone to post photos to their blog, so that you end up with a great collection of your best photos at your own domain name. Because photos are square by default, they look great in the Micro.blog timeline, and with cross-posting Micro.blog can attach photos to your tweets or send posts to other social networks.
We also have a companion iOS app just for photos called Sunlit. It has an Instagram-like timeline for browsing photos from your Micro.blog timeline, with the focus around blogs that I wrote about in my preview post as we were relaunching Sunlit 2.0:
To play nicely with microblogs, we introduced a new post type in the app for single photos. For longer posts, you can still collect multiple photos together, add text, and post them as a story directly to your blog.
Some people on Micro.blog focus almost exclusively on posting photos, like Robert Brook. Some people have even created separate blogs just for their photos at their own domain name hosted on Micro.blog, like burk.photos. There's a special section of Discover that features photos from more Micro.blog users.
A couple of weeks ago, Jonathan LaCour on Micro.blog submitted a feature request for a photos JSON Feed. He used this feed to build Microgram, a snippet of HTML that you can paste into your blog to provide a grid of photo thumbnails. You can see my photos page at manton.org using Microgram in this screenshot: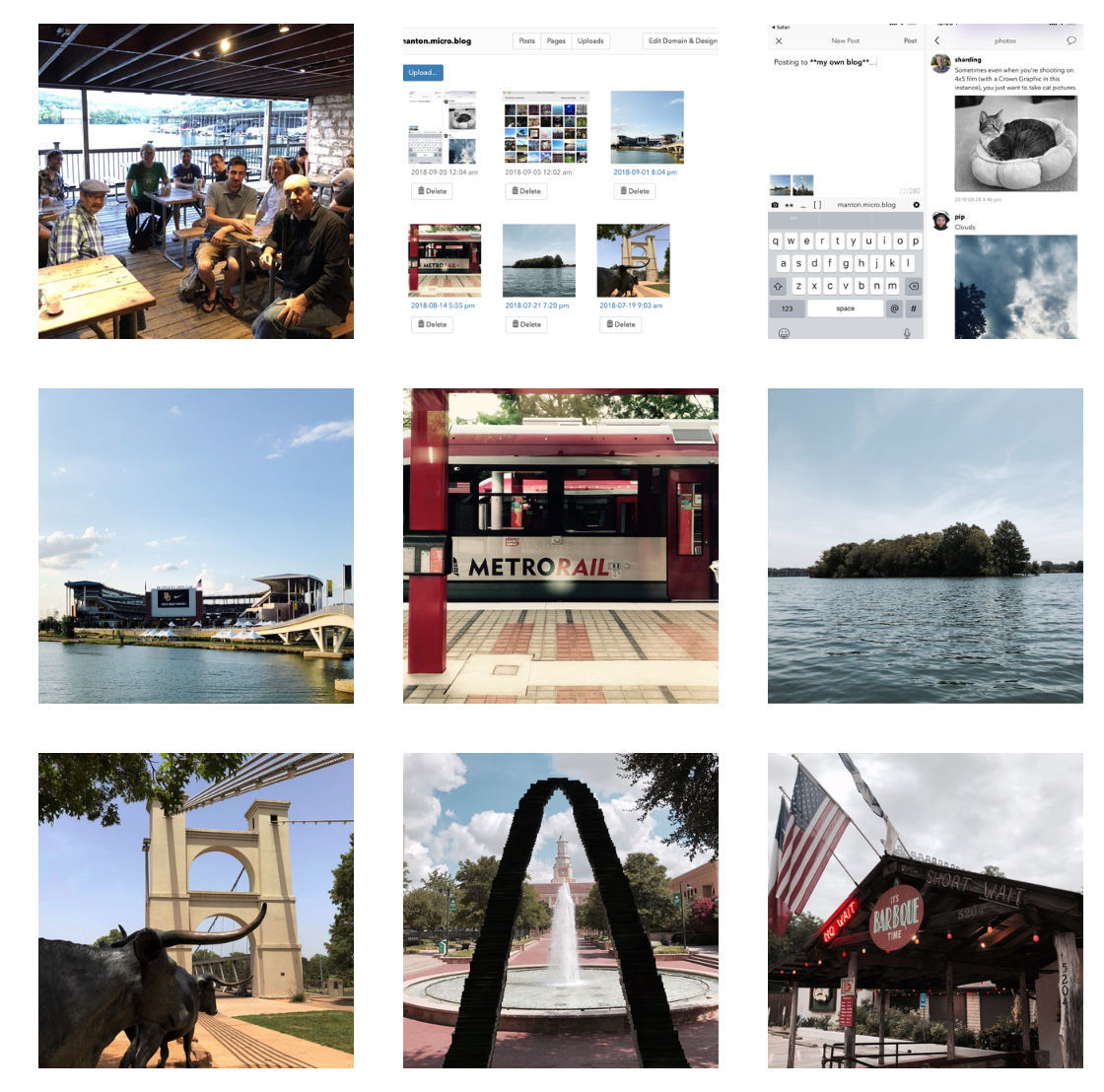 One of the most common questions we get is how to migrate photos from Instagram to Micro.blog. I think we have 2 really good options for this:
Micro.blog for macOS has a built-in Instagram importer. It will take the archive you get from Instagram and allow you to batch import your Instagram photos to Micro.blog, preserving the original dates and text from Instagram.
OwnYourGram is a web-based app that connects to your Instagram account to automatically copy new Instagram posts to your own blog. Because it's based on IndieWeb standards, it can also post directly to Micro.blog-hosted sites.
I hope you enjoy posting and browsing photos on Micro.blog! Tomorrow I'll have the next post in the 12 days of microblogging series.