We added Sign in with Apple to the next version of Micro.blog for iOS 13. It can be used to sign in to an existing Micro.blog account, or to create a brand new Micro.blog account right from iOS. It is the fastest way to start blogging.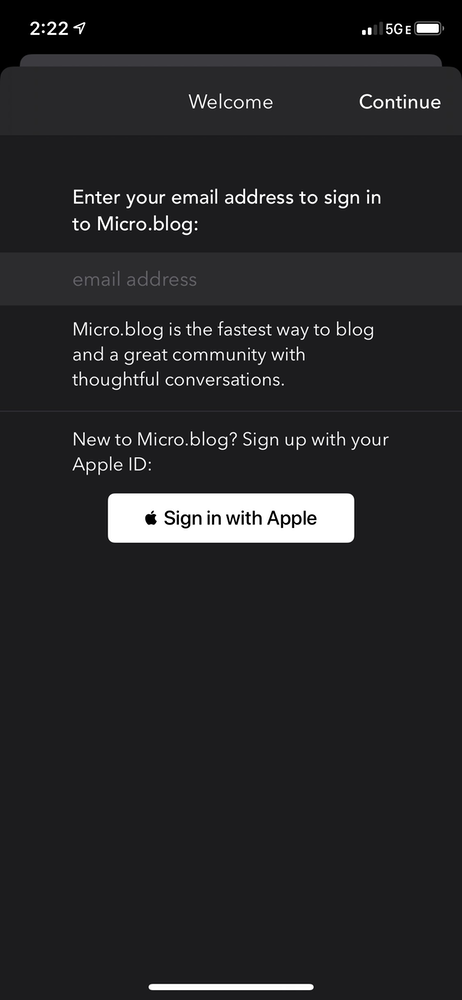 Because Micro.blog doesn't have passwords, in previous versions we had to send you an email to confirm signing in. With Sign in with Apple, we can skip this email verification and quickly sign you in with Touch ID or Face ID.
If you have an existing Micro.blog account and use Sign in with Apple with the same email address, you'll be signed in to your current account. If you pick an email address that doesn't match the email address used in Micro.blog, or if you choose Apple's private email relay, Micro.blog will create a new account and start a hosted blog trial for you.
A few things to be aware of:
You can have multiple email addresses associated with your Apple ID. When signing in, make sure to pick the one that is used by Micro.blog.
If you accidentally create a new Micro.blog account, you'll want to delete it so that you can sign in to your real account.
Micro.blog cannot currently send email through Apple's private relay service. I hope this will be resolved soon.
This update to Micro.blog ships on Thursday with iOS 13. If you're already running iOS 13, you can try this update early by joining the TestFlight beta.