Today we're launching a new feature on Micro.blog: support for multi-user blogs, so your whole team can write posts on a shared blog. We think it's going to be great for small companies, families, and schools, with everything from shared photo blogs to podcasts.
When you upgrade a blog to the teams subscription, a new "People" tab will appear in Micro.blog. Here you can give existing Micro.blog accounts access to post to the blog, or you can invite new people. Team members can publish new posts, edit existing posts, upload files, manage categories, and more.
For example, for our Micro Monday podcast, previously Jean and I had to share a Micro.blog account to make changes to the podcast. Now it's a team podcast where either of us can post with our individual Micro.blog accounts: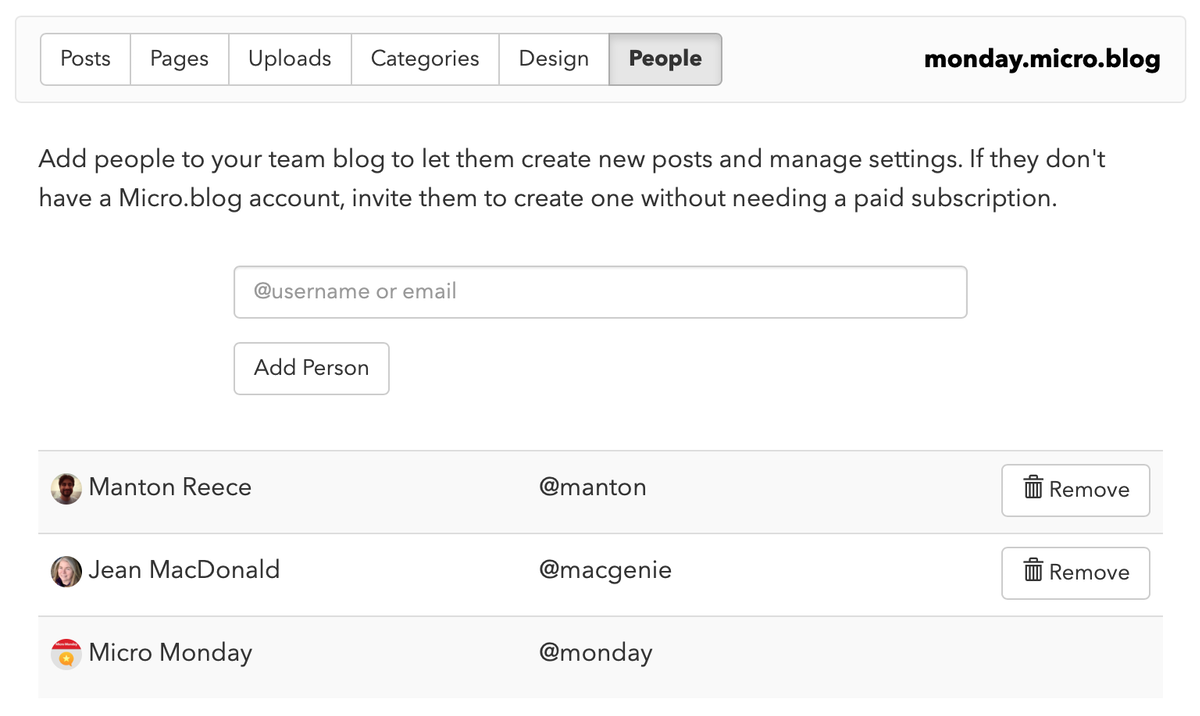 When someone is added to a team blog, that blog shows up as an additional blog on the web or in the native iOS and macOS apps. A single Micro.blog account can have access to any number of blogs and podcasts.
The teams plan is a $20/month subscription with unlimited users. It also includes podcasting and video hosting. If you invite someone who doesn't already have a Micro.blog account, Micro.blog will give them immediate access to the team blog without prompting them to create their own microblog or sign up for a paid subscription.
To upgrade a blog, click on "Plans" and choose "Upgrade to Teams". If you have any questions, let me know at help@micro.blog.