A few weeks ago, something in a discussion prompted me to look up the site 43 Things, which I used in 2005 to keep track of big things I wanted to do. The site is long gone, but a lot of it is preserved in the Internet Archive. I took a screenshot of the 10 things I had on my list back then: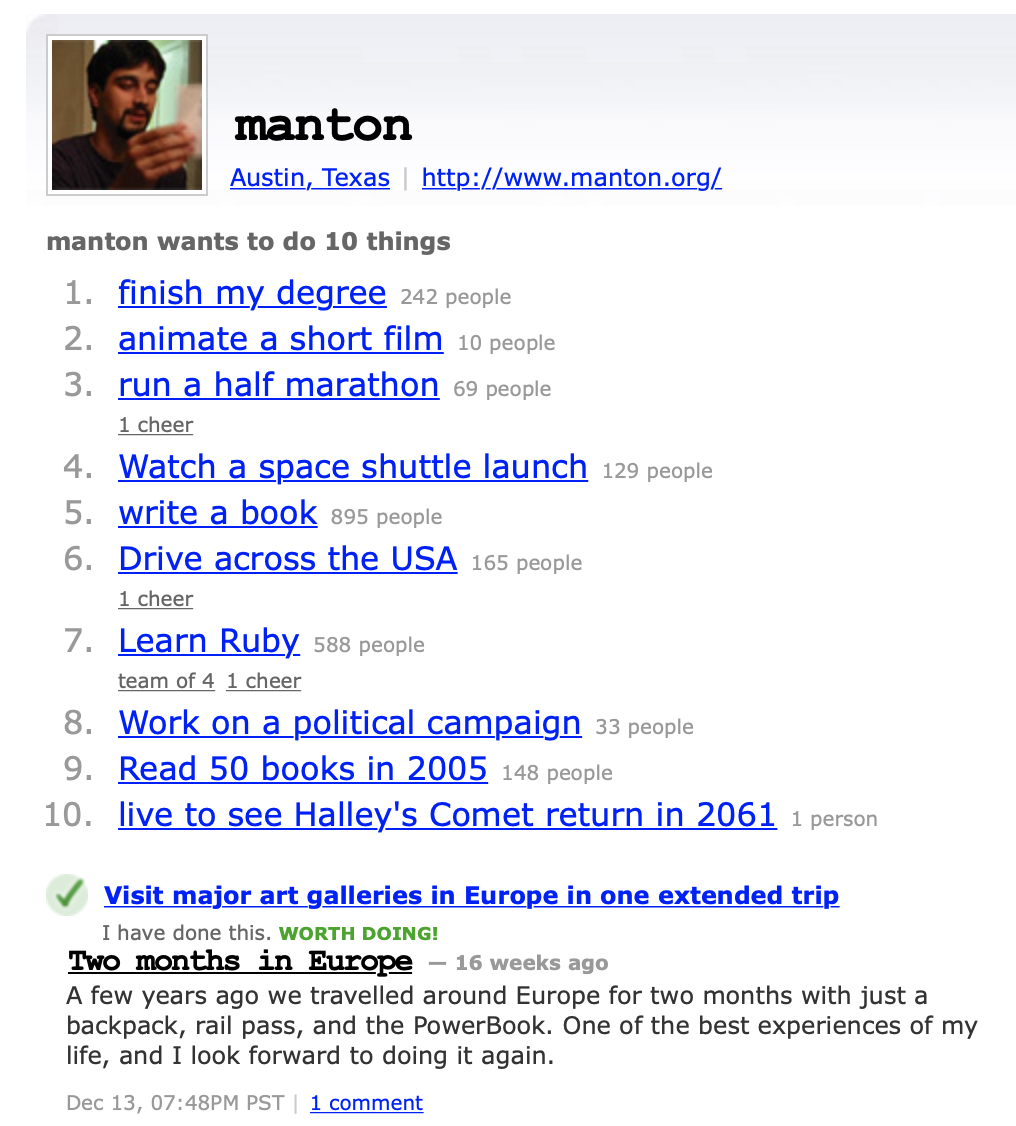 The site was peak Web 2.0. Part personal to-do list, part community, part API. Something about the design was fun to use.
Now that it has been 15+ years, I thought I'd revisit my list and see how I'm doing now, with some context from 2005:
Finish my degree — I spent a year at UT Austin, but I was more interesting in working at tech companies than attending school. Later I went back to take classes at night. I always thought I'd eventually get my college degree. Seems unlikely at this point.
Animate a short film — Might be something I'll get back to one day. A couple years ago I dug up some drawings and posted them to my blog.
Run a half marathon — Still haven't done this. I've run a couple 5Ks.
Watch a space shuttle launch — Sadly the space shuttle is gone. There are more rockets than ever, though, so this seems doable.
Write a book — I consider this done.
Drive across the USA — I've driven from Texas to the west coast and to the east coast. Never all the way across. Can't see this one happening unless I actually live on one of the coasts.
Learn Ruby — Done.
Work on a political campaign — I've volunteered for a few campaigns to call voters and knock on doors. Seems good enough.
Read 50 books in 2005 — I'm sure I didn't ready that many books in 2005, but I could still do this for another year. Last year I read 33 books and this year my goal is 40.
Live to see Halley's Comet return in 2061 — The most difficult thing on this list. I would be 86.
Daniel and I also discussed this list on Core Intuition 402 from 2020.