Finally getting around to posting this. The last couple of weeks since WWDC have been busy. But as I usually do, I still want to capture a little of the week in San Jose. (Looking back on my old posts about WWDC from the 2000s is a great reminder of what the earlier conferences were like, and I wish I had more of those posts.)
Arriving Saturday evening in San Jose, I rented a car and checked into my Airbnb. This is the first time I've tried Airbnb for WWDC. Hotel prices are out of control and I thought it would be a good way to see a different part of the city. Daniel and I caught up over dinner.
Sunday morning I drove up to San Francisco. I've made it a tradition to visit the Walt Disney Family Museum every year, and moving the conference to San Jose hasn't deterred that. I stopped at Blue Bottle Coffee in San Mateo on the way.
The special exhibit at the museum was Mickey Mouse drawings. It was an incredible collection. Afterward I had a bite to eat at the Presidio Picnic. Fog covered the Golden Gate Bridge.
I picked up Jon Hays from SFO on the way back, and we stopped at the new visitor center for Apple's spaceship campus, then got coffee and lunch down the road at Chromatic Coffee. Also detoured slightly for a quick look at Winchester Mystery House. (Skipped the $39 tour. Ouch.)
I didn't need the rental car anymore, so we dropped it back at the airport and took an Uber downtown, planning to go to sfMacIndie and watch game 2 of the NBA finals. That's when the evening went completely off the rails. We were cruising down the highway and someone rear-ended our Uber so hard it felt like the car was standing still. Everyone was shaken up but okay.
The keynote was packed with new stuff. I knew this was going to be a big year, but I was expecting most of the news to be around Marzipan (Catalyst). That ended up being a small part of the morning. I watched the keynote from AltConf and worked on highlighting WWDC-related posts in our new Discover section for the conference.
I was feeling a little out of it most of the morning. As the day progressed and I saw friends or met new folks, I started to feel better. Brent Simmons held a NetNewsWire meetup in the afternoon.
Tuesday at lunch was our Micro.blog WWDC meetup. This is the 3rd year in a row we've held the meetup. It was great catching up with everyone. If you made it to the meetup, thank you! I sent an email to everyone who had RSVP-ed.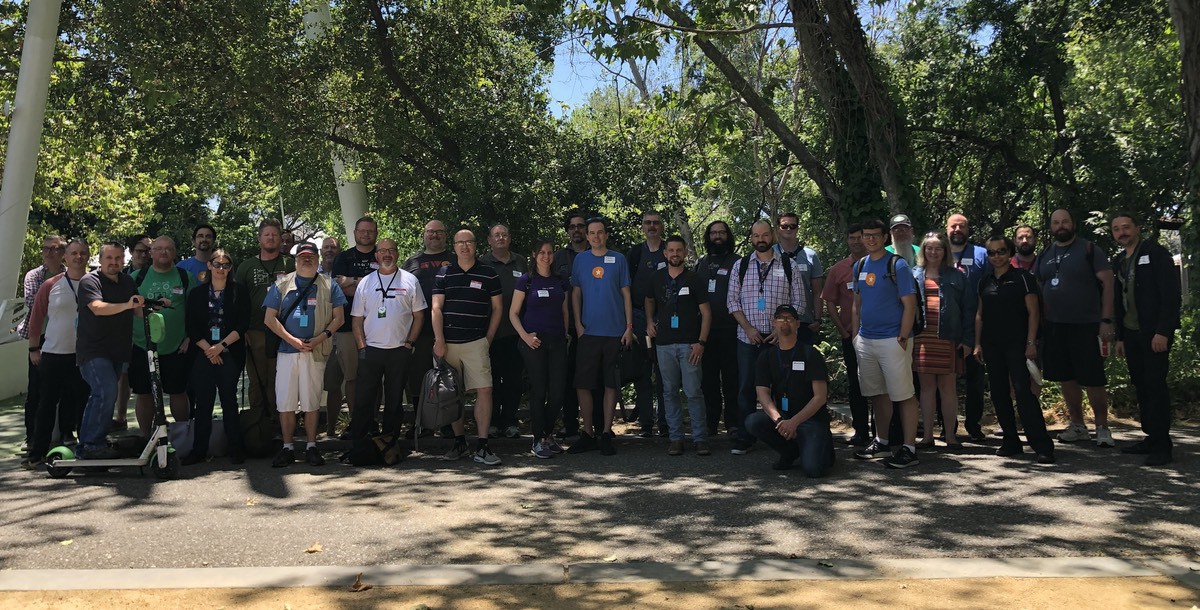 That night was The Talk Show Live with John Gruber and his guests Craig Federighi and Greg Joswiak. Great show.
A side note about electric scooters. There was a bike lane all the way back to my Airbnb, so I tried to use scooters whenever possible. I had never seriously ridden one before. When they work, they're great, cutting a Lyft ride from $7 to $2.)
But I also had several scooter frustrations. Scooters that wouldn't unlock. Scooters that would stall, presumably because the GPS wasn't working well. Scooters that would just go slow for no reason. I got lost once because I didn't stop often enough to check a map, going way off course while the Bird clock ticked away.
My conclusion: scooters are fine when you're going about a mile and there's a bike lane. Less than that, you should walk. More than that, you should Lyft. Daniel and I talked about WWDC and scooters on Core Intuition 376.
Wednesday morning I stopped for coffee on 2nd street for a little work before walking over to AltConf. My flight was in a few hours so I had just enough time for one session: Leah Culver's talk on making the podcast app Breaker as crash-free as possible. (Leah also co-founded Pownce back in 2006. I'm hoping to interview her for my book, Indie Microblogging.)
This was a bit of a strange year for me. While I'm sorry I missed some people and some events, I think it was good that I was back home early. I'm not going to make any other conferences this year. If you're looking for places to go, I highly recommend IndieWeb Summit in Portland later this month, and Release Notes in Mexico in the fall.
Apple's new stuff didn't disappoint. I'm most excited for Catalyst and Sign In With Apple, which I blogged about here. These are both very practical solutions to real problems. The new iPadOS improvements are also welcome, and I'm looking forward to experimenting with SwiftUI. Overall, a great WWDC.